I was so pleased with the Induro BHL 3(BHD3
) that I wanted to give the Induro CT313 8X
tripod a test drive. This of course meant combining it with the BHL 3(BHD3
) to get the full package and have an idea of how the all Induro setup would perform.  I will cut to the chase, it was perfect.
I used it in -30 Celsius, in snow, water, mud and most any other substance a tripod could come in contact with.  Let me tell you, carbon fiber WILL get cold when you are working in frigid temperatures such as -30.  However, it is not nearly as bad as holding a piece of aluminum in your hand.  That being said, the Induro legs have foam on all 3 legs and made that a non-issue.  I have read some reviews that the legs tend to stick/lockup in extremely cold conditions.  I did not have such a problem.  Perhaps this was due to a lack of lubrication on the tripods the other reviewers had tested.  Before picking up this copy from the store, I checked the joints and the feet to make sure they were sealed and greased.  Needless to say, the leg joints worked the same in -30 conditions as they did indoors.
In snow and ice it was especially nice to have the metal spikes.  Even though there were some offensive wind gusts, the tripod
did not budge one bit. The toolkit as well as the spikes and all additional accessories I will mention were included at no additional charge.  Perks for the customer are always kindly appreciated.
Spikes and included toolkit: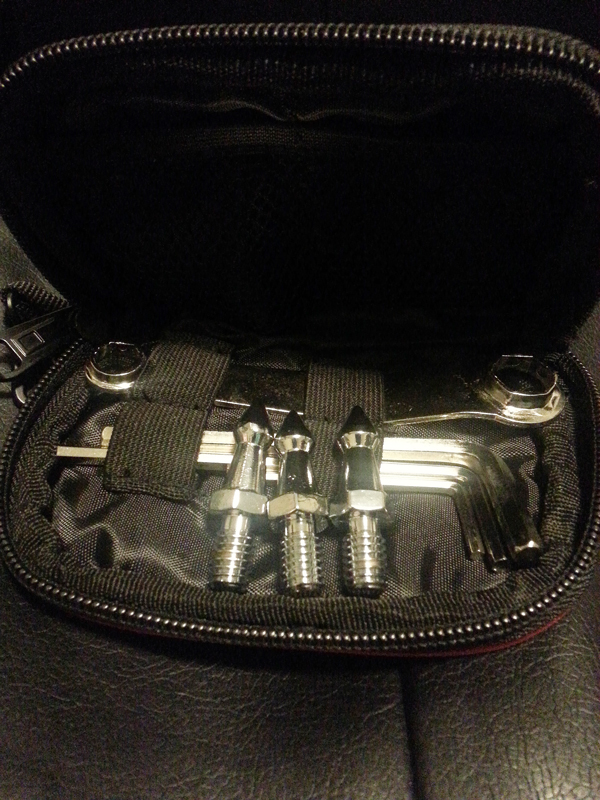 Along with the toolkit, the tripod also came with a really stylish and extremely well made and padded carrying bag.  As you can see, the BHL 3(BHD3
) fits nicely but anything bigger will not fit.  That being said, I had no complaints since I will never need a head that can hold more or has any additional benefits beyond what the BHL 3(BHD3
) has to offer.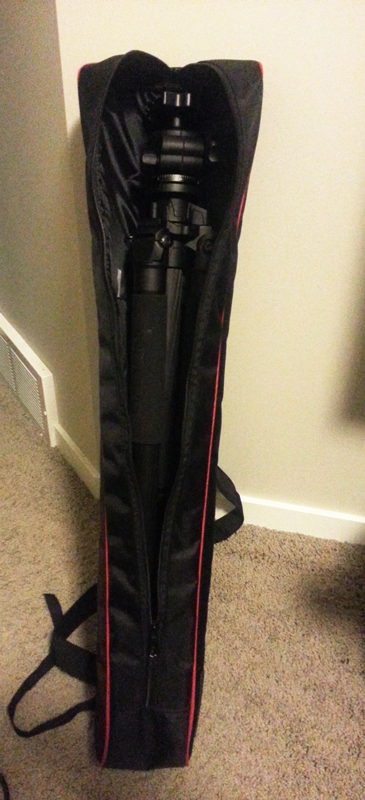 Like the BHL 3(BHD3
), the tripod
legs also include a bubble lever.  Additionally, Induro has also added a nice little hook for you to attach your toolkit to (to the left of the tripod below the smaller pan knob).  Personally I will never use it as I generally prefer not to hang things that will blow in the wind and cause vibrations.  Regarding that, actually, even taking the strap off your camera will help.  Needless to say, another nice touch by providing you with the options even if you will not necessarily use them.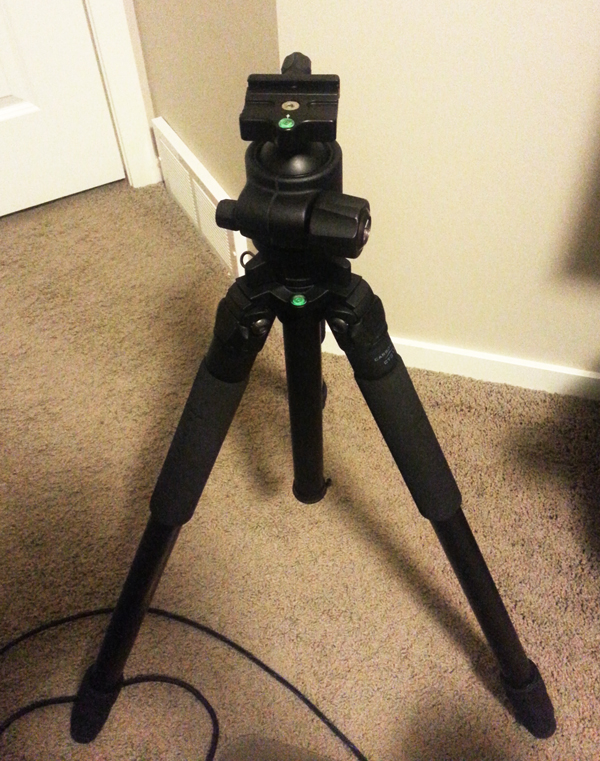 And finally, as you can see, the tripod
has the foam padding on each of the legs like I have already mentioned.  It is nice to have for your hands, but also for your shoulders.  This tripod
is really tall (fully extended) and slinging it over your shoulder will make it a bit easier to carry around fully extended.  Even if it is light, the padding is always a nice little comfort to have.
If you do however prefer the specs, please visit the Induro website to view their detailed tables.
My verdict on this product, is "buy it". If you need a sturdy, lightweight, well made and reasonably priced set of legs for marcro, astro, or any other situations that requires your camera to be completely stationary, you cannot go wrong with this awesome piece of kit. Induro also offers a 5 year warranty (10 if you are in the US and register your product) so you can set your mind at ease.
Thank you for reading!