There are many fantastic manufacturers of ball head's out there.  Most people would agree that Kirk, Markin, Arca Swiss and RRS produce some fantastic products.  Similarly, most people will agree (or at least not dispute its quality) that the RRS BH-55 is king of the hill when it comes to heavy duty ball heads that will hold anything you can throw its way.  So why then did I buy the Induro BHL 3?
Lets not kid ourselves, PRICE is always a consideration. Even if you have $500+ to spend on a ball head, if you can save a few dollars to put towards another lens or some other piece of kit, you would gladly do so.  This is especially true if you can get the same functionality and build quality for less.  If you live in Canada, like myself, you already know that NAFTA does nothing for our individual transactions when it comes to buying things tax and duty free from the U.S.  Adding tax and duty on top of an RRS BH 55 spikes up the price quite a bit.  That being said, even if I lived in the U.S. where I could have received free shipping, I would still have considered the BHL 3. I will be the first to admit that I had my doubts about buying a product that does not have the backing that RRS has.  The fact that most of the reviews I have seen online were done by photographers sponsored by Induro also didn't inspire me as to the true quality and performance of the product.  However, given the $300ish price range for what seemed to be an equal to the BH 55 on paper, I decided to look into it some more. I was lucky enough to find a BHL 3 in one of the local stores to play with.  After hauling my gear and doing a long exposure macro test in the store (seriously don't be shy about doing stuff like this… it is YOUR dollar you are spending so do your research) I was sold.
The operation of the BHL 3 (I believe the BHL3 is no longer available and has been replaced with the BHD3
) is buttery smooth and very precise.  Even with a long exposure macro setup I noticed no creep whatsoever in the images at full magnification.
The BHL 3(BHD3
) is built like a tank.  It has a similar form factor as the BH 55 but has a much preferred low profile look.  It is a matte black throughout with the only exception being the drag control built into handle of the main friction knob.  I actually really love this design feature.  I thought it would be annoying as hell to turn the drag control but its super smooth and can be adjusted with a quick rotation of your thumb.  Having it in the handle also simplifies the whole process since you are left to work with just the main knob and the significantly smaller pan knob.  Even if you are in a drunken stupor you will be able to easily work this ball head.
Below you can see the drag control.  It is the only silver you will find on the ball head.
The other feature which I like is another stupid proof (drunk proof) safety mechanism.  The quick release plate has a two step process.  If you twist the plate loose, the plate will still be secured by a pin that will prevent it, and your expensive gear, from crashing down the cliff.  The plate will be able to move within the mechanism but will not slide off until you pull the release knob out and twist it again.  They even had the instructions printed on the release knob in case you forget.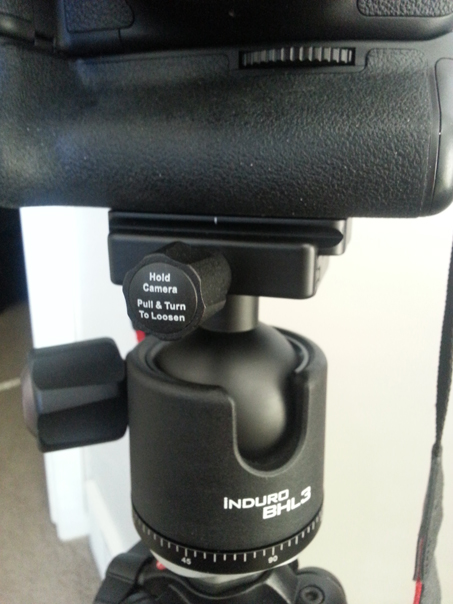 Oh right, as the knob says, hold the camera first and then release the plate.   I knew I forgot a crucial step!
Some other nice features that Induro was kind enough to include in the purchase price is a built in bubble lever and degree scale for seamless panoramas.  Actually, Induro seems to include a lot of little things like this at no additional charge.  If you buy their tripod legs, they will include a really kickass case and toolkit.  I really appreciate it when manufacturers don't grill you for the last dollar in your pocket for accessories after you already dropped a full stack on their products.  So yea, back on topic, I like to have things included like bubble levers.  If companies skimp out on giving their customers a little bone to be happy about soon enough people will stop buying their overpriced gear.  I can't stress this enough, but brand loyalty is stupid.  I know I have said it before in other posts, but go with the right TOOL for the right PRICE to get the JOB done.  These merchants aren't your spouse so there is no reason to put up with their self-righteousness ;).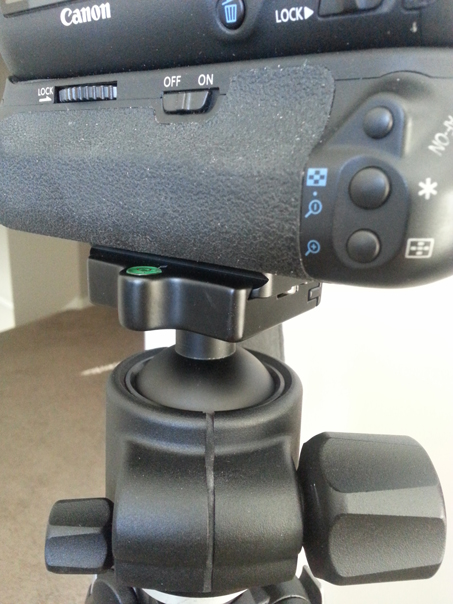 In closing, this is the best ball head I have owned.  I have tried out all the major brands and this one does everything (with a few features I actually prefer over the BH 55) the BH 55 does for less.  The Kirk BH 1 is also a good option but again, its around $100 more than the BHL 3(BHD3
) and offers nothing extra.  If you are still unsure about Induro however, (even after reading this incredible review) Kirk has a strong following and is a bit less expensive than RRS.
I hope this review has been helpful in steering you towards the light.  If you have any additional questions feel free to use the contact form or leave a message below.
Thank you for reading!
P.S. I am very sorry for not busting out my gray backdrop and setting up my commercial lighting with my medium format camera for precise product imaging 😉 … you will have to live with the photos taken from my Galaxy Note 2.