The show happened on March 8, 2014 and it was a huge blast.  The clothing lines were great and the models carried them amazingly!
I want to thank styleoverfashionliving.com and Troy for the media pass!
It was a fun 4 hours of constant shooting with just one quick 10 minute break.
First and foremost, I just need to list these amazing designers one more time.
Go visit their sites and check out their amazing work!
*ZE ZANO, Designer Youlea Zilkowsky
*Alla Allure – Designers Alla Weinberger & Polly Ikan
* Julien Hughes – Designer Jonathan Hidalgo
* LaRegalia– Designer Bushra Malik
* A.M.K – Designer Alex Krewiak
* Averynthe– Designer Mark Abenir
* Lionette– Designer Jessica Armstrong
* Shamila's Exquisite Collections
And lets not forget about the people that helped make it possible:
Make-up – Mira Pucchi Maquillage Inc. team
Hair – HAIR BOOTH, Edges Salon and Spa
TIPS:
When shooting fashion its best to shoot at eye level. Did I do this? Half the time, I was just trying to get some more interesting angles given the only light came straight from above which caused quite a few shadows on the models faces.
Ideal position is right in front of the runway. Usually those are reserved for the main event photographers so you will be either crouching in front of them, behind them or off to one side.  If you can, choose shooting from below rather than from above because at least this way you can still catch the models relatively at eye level right when they come out.
Get the designer name in the shot.  This is a great way to show the model and designer all in one.  One of the benefits of being on the sidelines when you aren't a main photographer for the event.  I didn't really follow this either… I want you to go to all the designer websites and take a look so I won't make it easy for you to know who did what ;).
Catch the model in stride. Its best to time your shots as the models take a step forward and right after they plant their front foot on the ground.  This will give you a more dynamic photo and usually its a time when most people don't blink (added bonus YAY!).  Of course, if its a smaller fashion show where models are allowed to stop and pose and can take their sweet time, you can get some more candid shots as well :).
Bring a monopod.  Okay so I ragged on monopods before saying you can just make a tripod stand on one leg to give you the same effect.  Anyway, in this one particular scenario where space (aka elbow room) is an issue, a monopod to help carry some of the weight of your gear for the MANY, MANY hours you will be standing is a fantastic idea.  I didn't bring mine and my arm was feeling it the next day hauling my gear up a mountain.
Bring lots of memory cards and spare batteries.  This is really just common sense but having a ton of both lets you shoot without worry.  I didn't even come close to depleting the 4 spare batteries I brought along the two in my grip as well as my cards and it was just one less thing I had to worry about.
My own personal favorite photo from the shoot is probably as far away from what you want from a runway photograph as you can get but nevertheless, this models eyes are just captivating.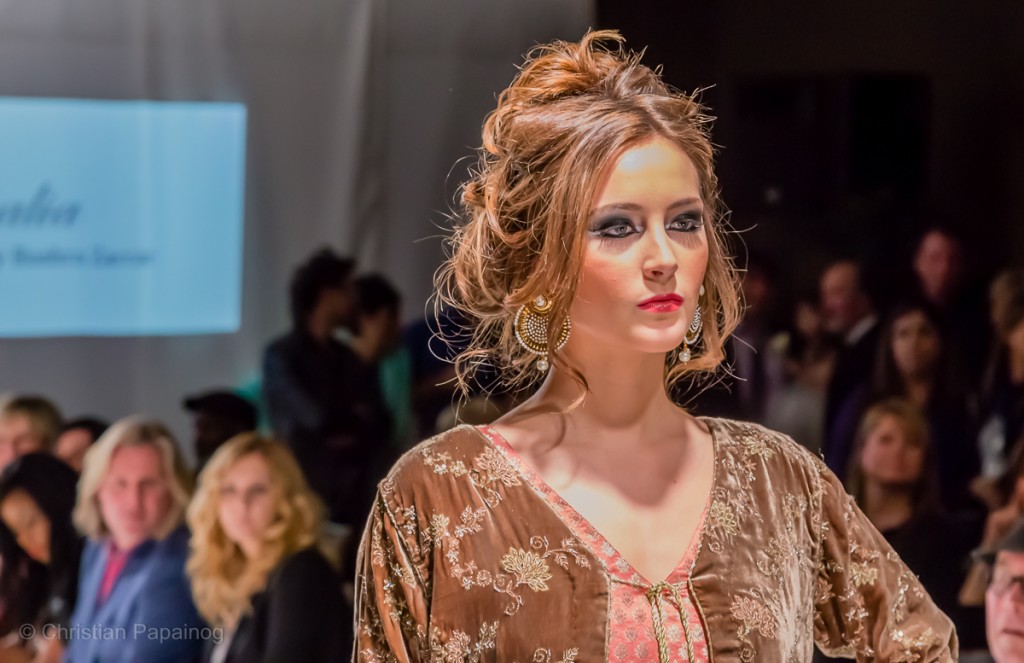 Thank you for reading!